After nearly a year's hiatus, I am back in the studio. Well, almost back... both kilns are about to get new controllers and reconditioned. It's time for a little investment in my work tools, and upgrades to make work easier. I have some new ideas, and have the energy to play around with them. Stay tuned....
This color is so close to my old green glaze. That green glaze was one of the most difficult glazes I've ever used. Too thick, it wouldn't melt. Too thin, it streaked and was incredibly ugly. Just right was green nirvana... That green glaze was like the proverbial potter's joke of mother in law blue for me. If this is just as successful, then I'm going to be okay with opening this jar of premixed glaze... and open it... and open it!
This green glaze is very similar to my new best friend green except it's a bit shinier. Slightly darker, but side by side, the colors compliment.
I wasn't as excited with the blue family as with the green. Okay, but it could just be me and blue...
While I was using the blessings bowl as a test subject, I tried a few bright colors too. This is okay for the blessings bowl, but I have doubts that anyone will be seeing this on a gallery display anytime soon...
This glaze intrigues me. It's a cool and quiet color, rather like an ocean just before a storm. It's a grayish green but can give a nice blue if I let it pool.
This is my starting point. I don't possess enough imagination to fathom where all this will lead me. Hope it's going to be an interesting journey! Stay tuned.......
Sara's Beautiful Ornamental Cherry Tree in Full Bloom
One of the earliest lessons I had drilled into my hard head concerned using premixed, or commercially available glazes. Oh, the stigma of admitting that I wasn't using my own mixture, or at least a formula from some reputable institution. I've certainly spent years mixing, testing, cursing, and forever looking for something that is always just beyond my grasp. I was lucky beyond my skill level when I stumbled on the purple combination that I've used for more than a decade. I've had a couple of other lucky breaks with other combinations as well.
I've run out of development time. I'm fortunate that I have several wonderful wholesale accounts that come back year after year. They buy a lot and pay well. That's the good news. The truth is we're all tired of my glaze palate. I've gone round and round for about three years now looking for a particular "look". I've wasted so much time and resources looking for that ellusive look. I freely admit it. I can't find it. There.... I've said it in print. Last fall I gave myself permission to try some commercial glazes. Over the last decade many fine companies have developed many lines of sturdy, durable and attractive glazes.
Not only have I opened my self up for color and glaze exploration, I also just changed my clay body. After more than a dozen years of using Highwater's Red Rock or Riverside Grit (same body just with more grog, more or less) I am now beginning to explore the world of buff bodies... no giggles here. I'm too old to be "buff". This is strictly a clay thing !! I've delved into the past and resurrected a jewelry line with a white stoneware body. The jewelry is in production and is in several local stores.
As I do with everything I volume produce, I do a cost-time-materials study. I was totally sure that using commercial glazes would be cost prohibitive. When I am honest about everything that goes into the production, it's more reasonable that I ever considered. Weighing in on this is I don't have to spend as much time in exploration for a "look". I don't have to spend time mixing glazes, both for testing and use. I don't have the expense of buying and storing chemical supplies. It takes less of my time to open a jar and begin glazing. Yes, that jar or dry mix does cost more up front. It's also true that a company can pull a glaze off the market for any number of reasons leaving me without at a critical time. I think I can live with adding to my line several glaze patterns that come out of jars. I'm working on the guilt, but I think it will fade fast. I'll post pictures of the new colors next week. Right now Gene's doing kiln repair... again!
Current Mood:

cheerful
I've been making a few buttons for the yarn department at Cozy since last fall. Fun buttons. Buttons that have personalities, and best of all, buttons that don't match.
I love texture, form and color, not necessarily in that order, but all important design elements. My friend, and first clay instructor, Susan Walton, now is the creative spirit of Rubber Stamp Tapestry. She makes the coolest and very user friendly rubber stamps. www.rubberstamptapestry.com
I use many of her stamps along with vintage fabric stamps, texturing tools, stamps I've designed, a collection of thrift store finds, kitchen store products and other items that just make people laugh to see how I use them. I also gave myself permission to use some of the pretty commercial glazes on the market. While I will not stop testing glazes and looking for something new, it is so nice to open a jar and apply to the button or earring and get a finished look that is pleasing and relatively easy.
Texturing a button is much easier than an earring. I try to make jewelry that can be worn comfortably which means the clay slab is quite thin. A button slab is at least twice as thick as an earring, frequently even thicker. I've drawn some new pattern shapes for my earrings and have made a few dozen pairs to see if this is worth pursuing. Today I gave two friends a pair of earrings in a new design to wear. I love having jewelry testers! Just because a shape looks good on paper doesn't mean it's going to wear well. Nice there are still volunteers out there to help.
Seems like 2010 is going to be an interesting year....
Time to reinvent the wheel so to speak. I started my clay journey nineteen years ago making clay jewelry. Over the years the jewelry became less and less of my focus until I just stopped making it a few years ago. Lifestyle changes the past couple of years have forced me to think about what I can do and what I'd like to do. Let's not forget the economic realities either. My custom tile clients have vanished without a trace... I'm tired of hauling heavy boxes of pottery to shows in distant cities hoping to sell my work. December 2009 found me spending many hours in my studio. Not making new work, but cleaning out the clutter and scrubbing every surface. On some level it felt just like a purge. With the start of the new year, I found myself starting to think about jewelry again, and that other fun little object, the clay button.
Current Location:

Sara's studio

Current Mood:

cheerful

Current Music:

Sweet Dreams Annie Lenox
Let me say that I can take decent digital or 35 mm photo if I'm photographing people. I seem to have a real knack for capturing human emotion or reaction. None of that ability translates to photographing objects. Add bright lights and an artificial backdrop and watch me kick and scream.
My etsy storefront is waiting for me to figure out the photography part...so, last week with Gene's help I started collecting the possible items I would need. It seemed like a good idea to do this in the house. A good idea until I realized all the piles of junk I was going to generate. Now I'm the first to admit I work in something akin to Pigpen's palace. It takes a lot of "things" to assist in my pottery production. I can live with the disorder of my studio. Every time I start to create chaos in the house, I lose it. I have to keep my living area as orderly as possible.
The last few days I've spent cleaning and relocating many piles of studio junk. I've got a space that I can leave more or less open. The photography supplies all have new storage containers and a cleaned off shelf. Nothing left to do but start the process of learning to take a picture.
The studio is 10 feet wide. The first thing I learned was that I didn't need 100 watt bulbs in those par lights. There was so much light the object turned yellow. The second thing was that the hangers Gene made me to hang my nice gradient background need to be about 3 or 4 inches longer. I changed light bulbs and tried again.
I realize I'm going to need a free floating light source to eliminate some of the shadows. I know I will need to meddle with the photo image. Yes, I can do some things, but I am not a photoshop pro and don't want to be either. We'll see how I deal with this issue.
The light level of this little plate is certainly better, but it's totally floating. The next plan is to employ the longer hangers for the gradient paper. It's obvious some of that darker color needs to be present.
This little plate turned out reasonably well for a first attempt. The color is correct. The background distractions are minimal. A little more paper adjusting will ground some of that free float, but all in all, I might really learn how to do this... in this life time...
My back is flat against the wall... can't put it off any longer. I've had to create a space where I can take indoor photos. For years I've managed reasonably well using soft shade, but with the idea of creating an etsy store front, the time has arrived to deal with all I don't know about taking digital photos.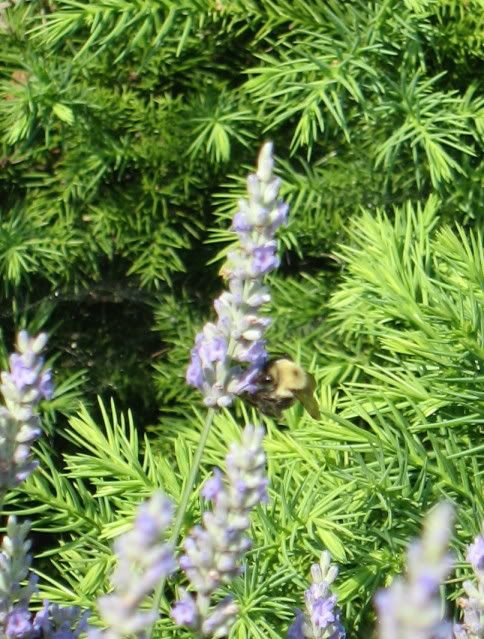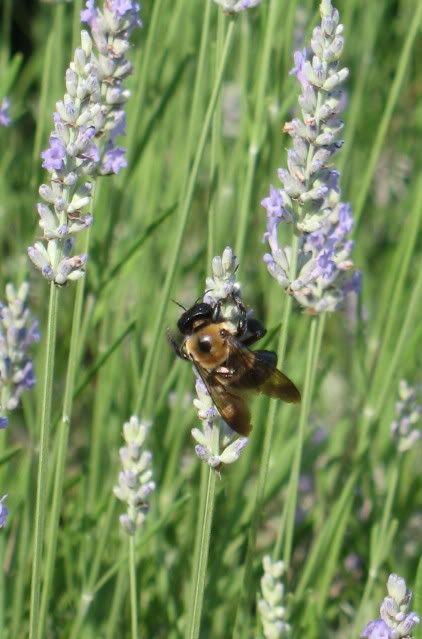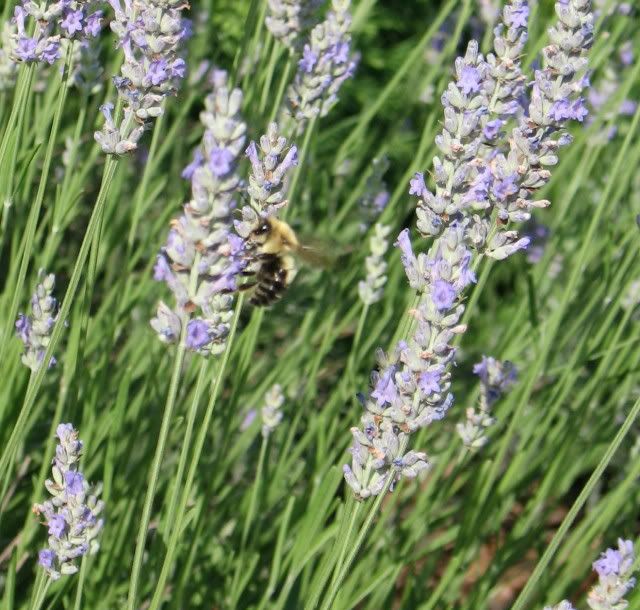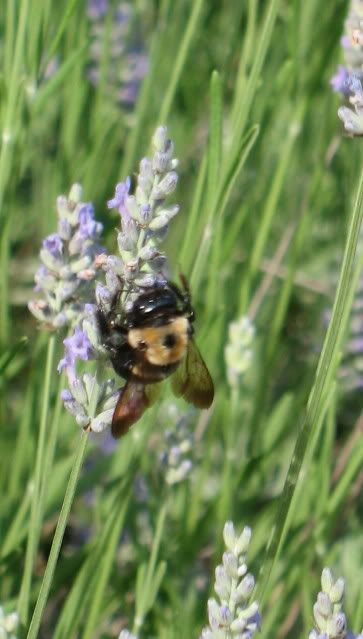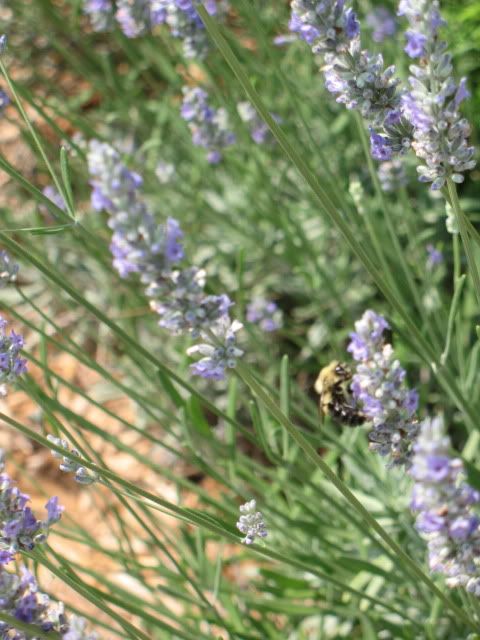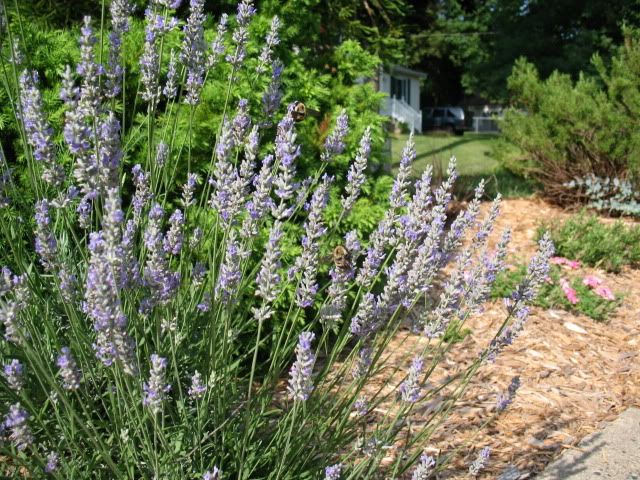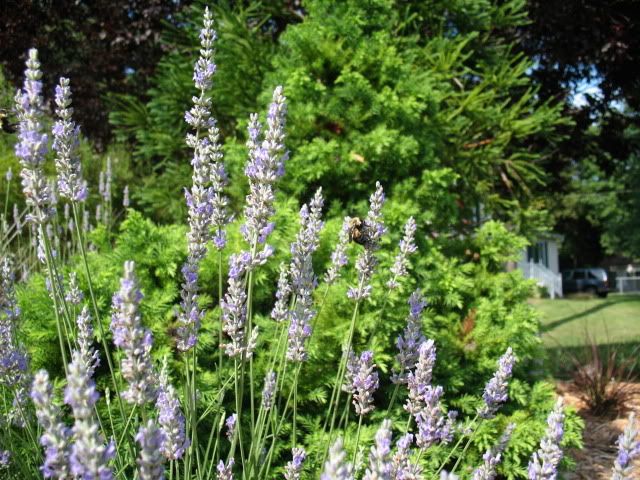 Bumblebees for Susan.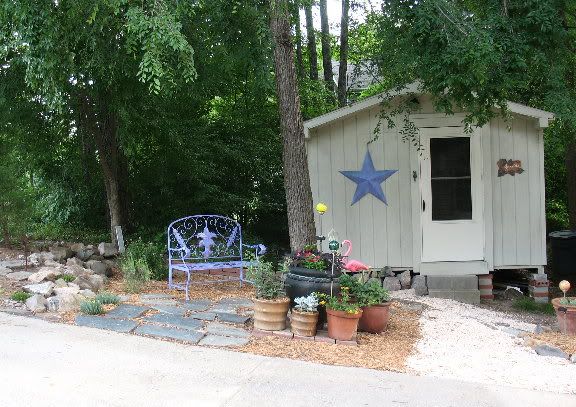 It escapes me now what made me go rummaging in the weeds and debris that was piled up outside my studio door back in February. The area to the left of the studio has long been a forgotten space. Whatever it was that I was looking for made me uncover one of the rocks from my long ago rock garden. My studio work was pretty much under control so I decided to spend some time cleaning up this area. Once I had it cleaned up, it just looked bare. The pieces of slate that now look inviting used to be buried under the bird feeders just outside the kitchen window. At the time, it seemed like a good idea to unearth the slate and make myself a nice little area to maybe have lunch on a cool spring day. I spent a couple of days shoveling birdseed hulls, washed up dirt and enough varieties of earthworms to make a bait shop giddy. I had the healthiest collection of earth worms I've ever seen. I'm hopeful that along with relocating the earthworm farm to the back of the firing shed area that I've also relocated the moles that periodically tear up the yard in search of a succulent earthworm. Thanks to my biology lab partner in high school, I don't freak out when I come in contact with an earth worm. (thanks Kenny!) Still wouldn't dissect one however....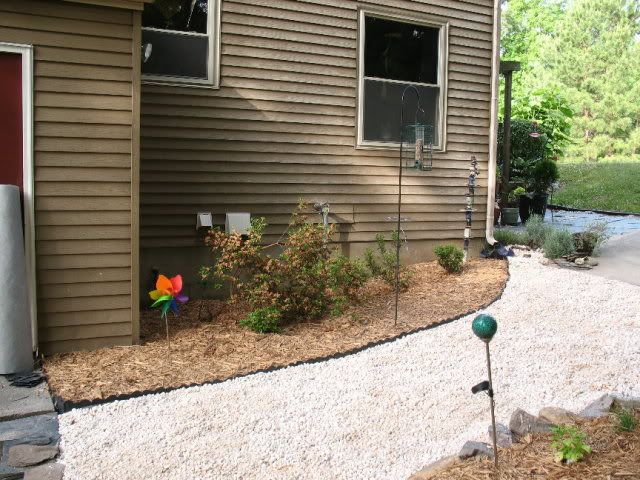 Since I'd just about dug up the yard under the kitchen window I needed to devise plan B pretty quickly. I already had one nice azalea so a small bed for another azalea seemed like a good idea. As I started scraping off all the grass I kept finding more buried pieces of slate. I ended up digging all the way to the concrete pad outside our storage building. So, I expanded the bed and planted two azaleas. Now they have room to grow with space for some yard art.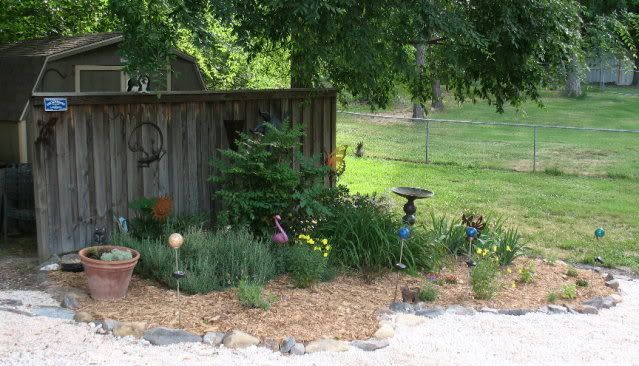 As the azalea area kept growing an idea formed in my mind to expand the existing flower bed in front of the firing shed. So, I got my little shovel and started peeling the grass back. That was something akin to manual labor. A lot of it... As I expanded the bed space I thought about how nice it would be to just make a walk way between the two beds so I kept peeling back the grass (weeds would be more truthful... oh, and I should also mention clover removal) The picture shows clearly the established plants and the tiny new ones. Glad I have rain barrels as I now have more container planters and new plants than ever before.
I figured while I was at it, I might as well have a nicely rocked in area to walk to the studio too. There are numerous tree roots that have always been a hazard. A couple of inches of rocks have made it much nicer. Of course, I had plenty of grass and weeds to peel away in this area too.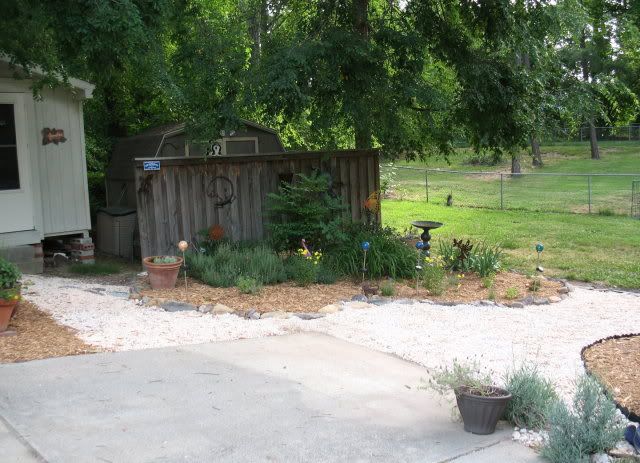 I didn't realize when I started bringing home bags of river pebbles from Lowe's just exactly how many bags of pebbles I would ultimately need. Yes, I measured the space and calculated the number of bags according to the chart on the first bag I brought home. No way, that couldn't be possible. Once I buy another five or so bags to fill in the skimpy spots I will have used exactly what the chart said I'd need.... don't you just hate a know it all?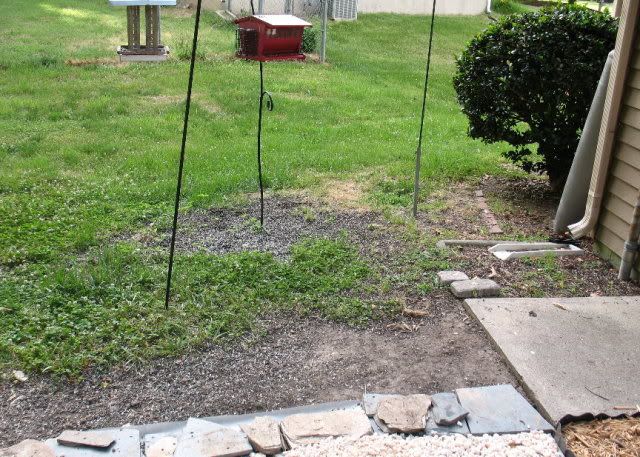 I've used some extra slate as a boundary marker to keep the rocks in place. My next project is to dig out this area including removing the shrub, and making a patio out of concrete pavers. Be certain that I will pay Lowe's to haul those pavers to my driveway. I've always wanted to build a rock wall. This might be my opportunity to learn how to build one. The finishing edge of the patio should have a rock wall don't you think?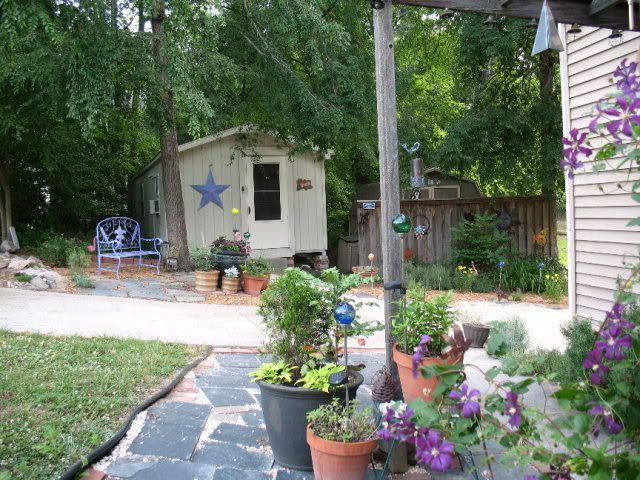 This is now my commute to work. The view has gotten much nicer. I've dropped five pounds doing yard improvements. Probably spent as much as a year's gym membership on rocks, plants, mulch and other things I'd just as soon forget about. I'm thinking it was a nice way to spend my leisure time this spring....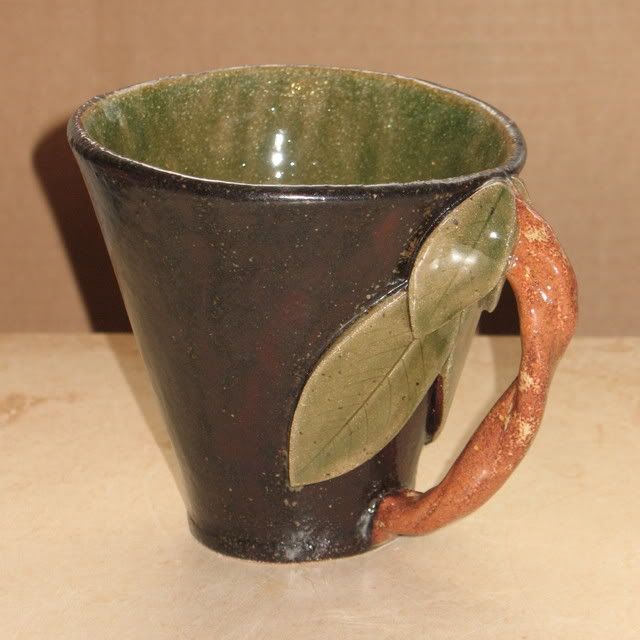 No, it's not a mistake... I really did make a mug. Okay, while it's not exactly a conventional mug, it's a close to a mug as I ever intend to make. It's large, holds about 2 regular cups of coffee. Since I'm doing the renaissance faire in a few weeks, I thought it would be interesting to make a few "non Sara" things. I'll probably make a few more to keep this one company. Don't blink because they will be gone.....
Current Mood:

amused
I used a completed cottage for the model for what I called the Molly 1. My first idea was to make the roof of the cottage the lid for the urn. In theory that's a good idea except for one thing, okay two things. Number one: I'm handbuilding, not throwing on the wheel. No matter how careful I am smoothing edges and seams, the fit for the lid is dicey. That proved to be exactly how it turned out too. It was fine in the bisque firing, but the glaze firing was a different matter as I had to fire the lid and the bottom separately. Sure enough, the lid didn't fit even though I had carefully trimmed every possible spot that might be a problem. The second reason it wasn't a good idea was in order for the roof to be a lid, it had to have what amounted to a floor built between the walls. It weighed a ton.... although I was pretty sure I couldn't make a second lid to fit, remember I'm handbuilding, I had to try. A pair of calipers will facilitate a perfect fit when you're throwing on the wheel. Because of the irregular nature of handbuilding, it's more of a hit and miss. Two lid attempts missed...
Over the holidays I didn't work on the cottage. Mostly I just thought about what to try next. The only logical solution I could think of was to make the ground be the part to fit and be sealed. So I built another cottage in a more rectangular shape with a sloping roof and fat chimney. We'd agreed that we liked the door slightly ajar. It just seemed more welcoming that way. I made the door handle the shape of a dog bone... and for whatever reason misspelled Molly's name.... I'm still wondering how I managed to do that as I had the other cottage in plain view with MOLLY staring right at me.... Mollie....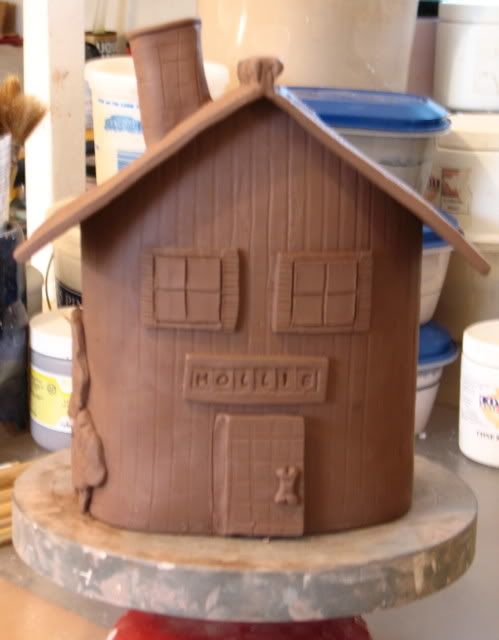 I didn't catch the misspelling either...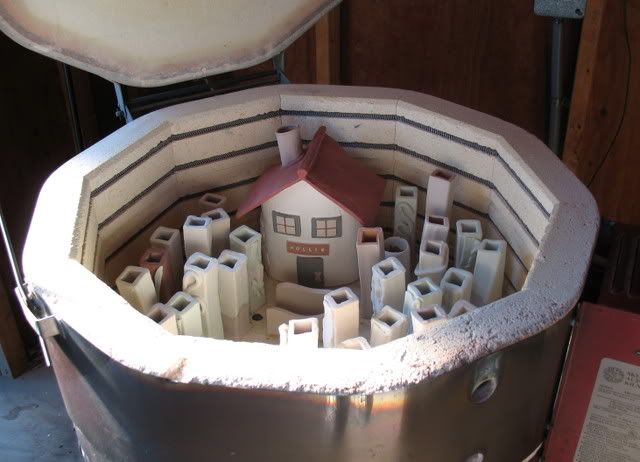 The day I took the house out of the kiln I was so excited because the top and the ground turned out really nice. I was so excited... I set the house on the table in my studio, took a couple of pictures and called Molly's owner up to tell her the good news. She decided to drive right on over. So I went back to the studio and started to get all the related items together. I took down the original note and there is was in big letters MOLLY. I nearly swallowed my tongue trying to get to the phone to say, wait, don't come, I've made a horrible mistake.... she was very gracious. I made a new name plate for the house that says MOLLY.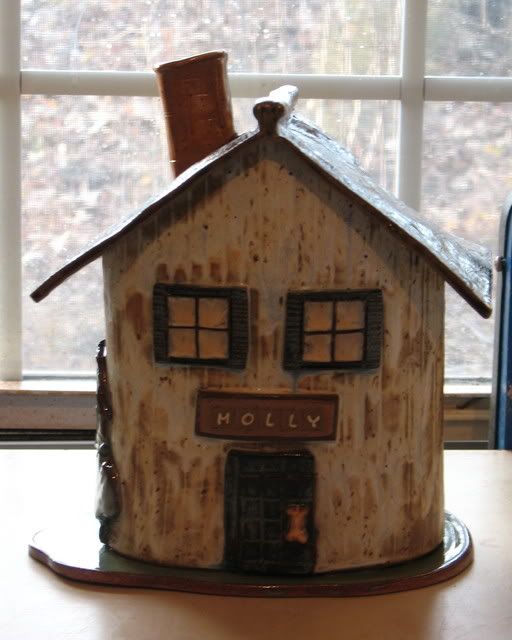 Yesterday we took Molly's ashes, her AKC papers, my work notes and a few other things and sealed it all in the cottage. It was a huge learning curve from start to finish....
I was asked last fall if I would make a container for Molly's remains. Molly was a much beloved dog and her owner was definately grieving. Somewhere around October Molly's owner and I met in my studio to talk about what would be appropriate for Molly's urn. I had just started making the series of cottages that I blogged last year. Immediately it just seemed right to make Molly a cottage. A Scottish Terrier should have a cottage, right? It's a big learning curve from a cottage without a floor to a cottage that can be a sealed container....
I invited myself to spend the weekend with my brother Buzz, and my sister in law, Dianne. Dianne frequently gives me wine from Rag Apple Lassie for Christmas. It's good wine and I'm a sucker for the cute cow logo and the story that goes along with the name. With this year's present I asked if maybe we could also go to the winery. Long story short, this was the weekend.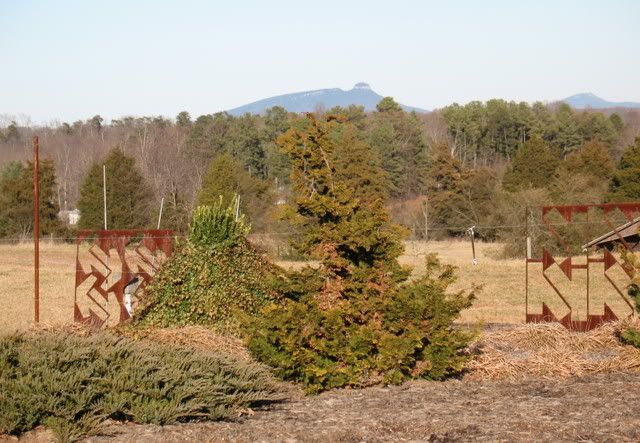 This is the view from the parking lot to the left of the winery. For all you Andy Griffin fans, this is Mount Pilot, otherwise known as Pilot Mountain. Nice backdrop... my brother said Pilot Mountain can be seen from his driveway but I never managed to turn the right way to see it. For that matter, I never heard the coyotes either....
So I opened the door and headed right on in to find the tasting table.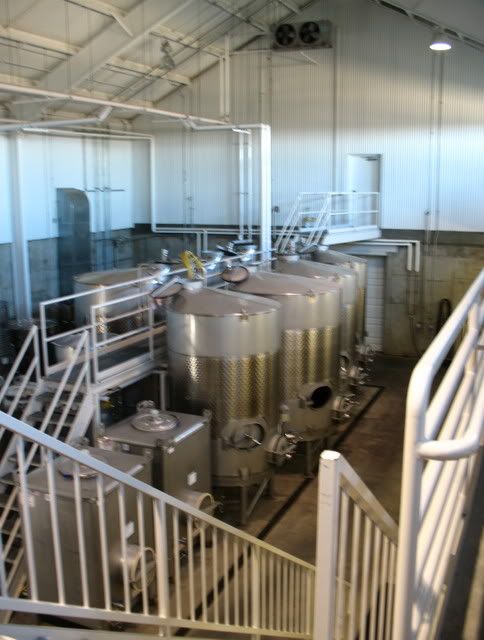 This is the heart of the winery. A great thing to see as you cross the upper walkway. I only tasted five wines. My favorite for the day was Boonville Blanc. That was a real surprise to me as I tend to prefer red wines. They were all sold out of Rockford Red which is a real smooth and easy red. That's certainly a reason to go back when this year's grapes are ready.... The merlot, the cabernet and the syrah were to my liking but I didn't like the kaleidoscope red at all. It tasted like a glass of perfume. Everything else was just fine... Dianne and I managed to fill a cow case with no problem.... she's a member and gets a nice discount on the case price. This is a delightful place to sample and buy some most excellent NC wine....
My brother casually mentioned that Daniel Boone's parents are buried in a small cemetery in Mocksville. That piqued my interest immediately. Changed my travel plans too. I had to find enough time Sunday morning to go to the cemetery in daylight. Since my brother and sister in law live just a couple miles from the main drag in Mocksville, it was easy to rearrange things.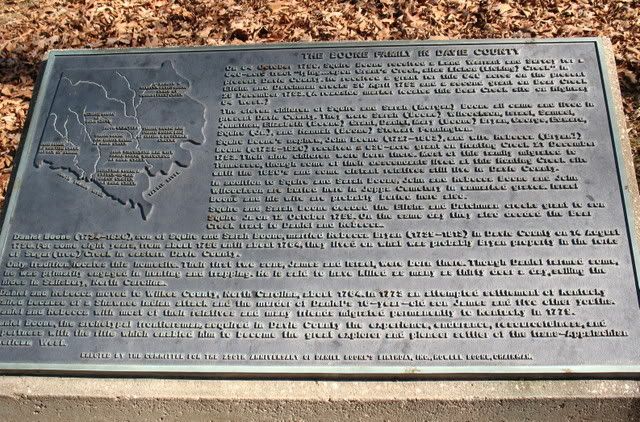 This is a very old cemetery, divided into several sections. The oldest section predates the civil war. A number of the old markers cannot be read any more. I walked around the entire area taking pictures and soaking up the atmosphere. It's a very peaceful place. The only potentially disturbing factor is the number of site flags. Most of them seem to be marking the graves with tombstones that can be read. I sincerely hope this is not an indication of plans to move these graves. It's obvious that Daniel Boone's parents simple graves have been well cared for and have been preserved as a historical site.
I've never seen a child's grave like this one. Unfortunately someone removed the name plate.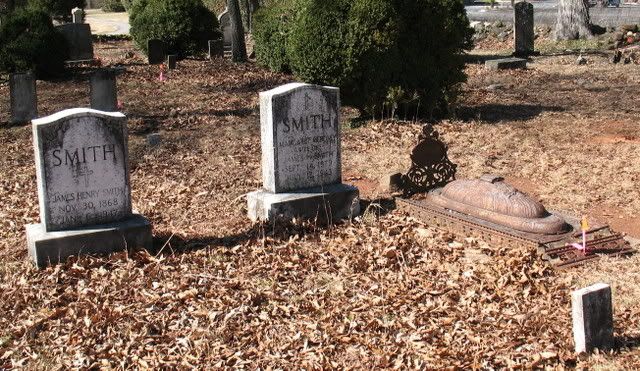 This is one of the older headmarkers that can actually be read.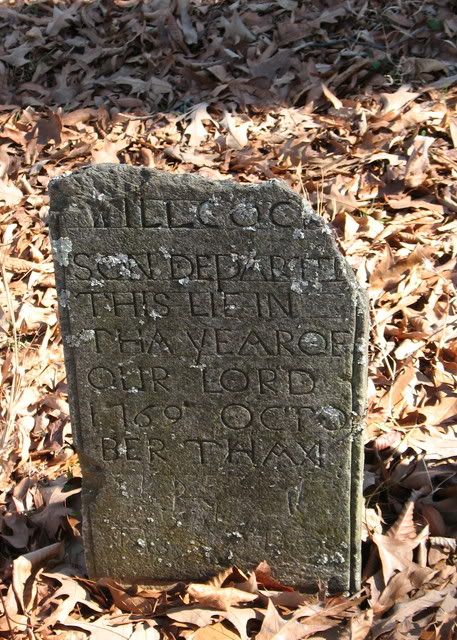 Some of these markers are so elaborate.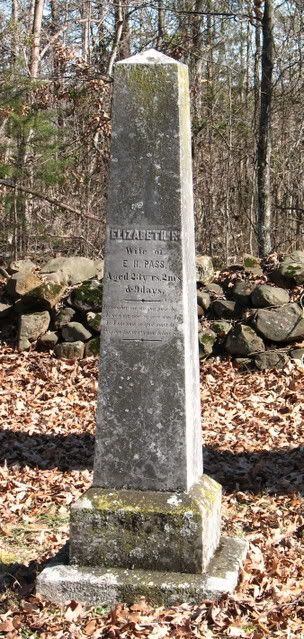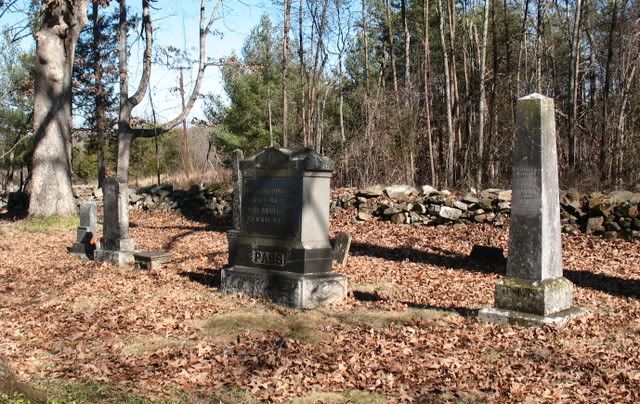 Many of these markers read very much like our modern obituary columns.
Now I just need to go back and walk around after dark....
Current Location:

mocksville, nc

Current Mood:

satisfied

Current Music:

on the road again...